Home > Noticias> Rock del Resto del Mundo>
Living Colour ya tiene fecha para The Chair in the Doorway
El nuevo disco de estudio del grupo estará a la venta en Septiembre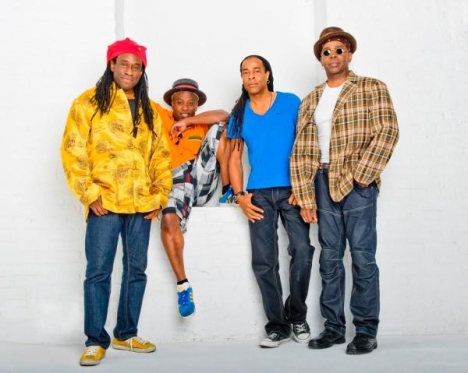 20/06/2009
| Despues de cinco años sin material de estudio el cuarteto de fusion rock
Living Colour
acaba de anunciar el lanzamiento de su disco
The Chair in the Doorway
el próximo 15 de Septiembre a traves del sello Megaforce Records,
El combo neoyorquino integrado por Vernon Reid, Corey Glover, Will Calhoun y Doug Wimbish compuso y grabó el album en los Sono Studios ubicados en las afuera de Praga en la República Checa entre el fines de 2008 y principios de 2009.
El guitarrista Vernon Reid declaró "
Sentimos que este es el mejor album que podiamos haber grabado y estamos muy contentos por poder editarloa traves de la legendaria Megaforce Records, ya que algunos de nuestras bandas favoritas estan o estuvieron en el sello como Metallica, Bad Brains, Anthrax, Black Crowes, por lo que es un gran honor formar parte de un sello con semejante legado.
"
Para presentar el album realizarán un tour mundial con fechas en Norteamerica, Sudamerica, Europa, Australia y Asia.
Como hecho curioso cabe señalar que el arte de tapa fue realizado en base a una convocatoria que hicieron a sus fans a traves de Internet.
Lista de temas de The Chair in the Doorway
1. Burned Bridges
2. The Chair
3. DecaDance
4. Young Man
5. Method
6. Behind The Sun
7. Bless Those
8. Hard Times
9. Taught Me
10. Out Of Mind
11. Not Tomorrow
Tags: #livingcolour# | - Visitas: 1763
Noticias sobre #livingcolour#
---
Buscador de Rock Fueguino
Guía Rockera:


Un día como hoy...
"Para mí el rock nunca fue sexo, droga y rock'n'roll, sino una cultura propia, en la que circulan todas las otras artes. De una manera tal vez algo desmañada, el rock no hace gala de la cultura como museo. Sigue teniendo algo de despreciado y marginal, pero eso es lo que le sigue dando su libertad"
Rosario Blefari