Bandas de Rock Fueguino
Santo Remedio
Integrantes | Historia | Recitales | Discografía | Videos | Banda Histórica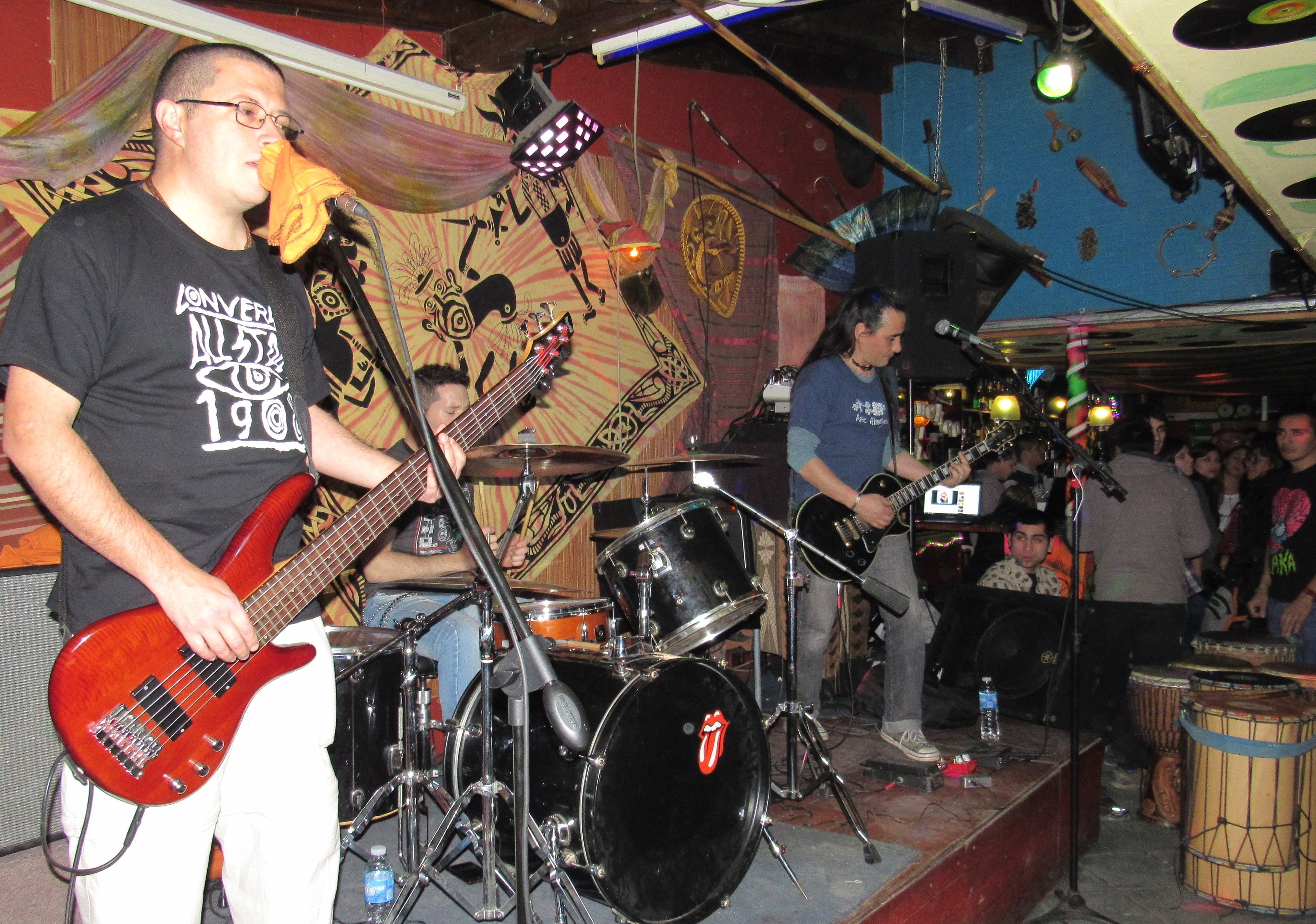 2000 | Ushuaia | Pop / Rock social
Integrantes
Daniel Sandoval
[ guitarra y voz ]
Germán Flores
[ bajo ]
Hernán Ramos
[ batería ]
Historia
La realidad nos agobia... y la música nos hace sentir vivos... Y en esta alquimia entre ambas, desnudamos nuestras almas... Y desde que suena la primer nota, se las entregamos en cada humilde canción...
© 2008 Santo Remedio
Hernà n Ramos - Baterìa - Comenzó su carrera musical por el año 1995 mientras cursaba sus estudios de Farmacia en la Universidad Nacional de Còrdoba.
Tomó clases con Cesar Young, en la ciudad de Córdoba Capital.
Fue integrante fundador de "CARBONO 14", banda de rock alternativo. El grupo realizò presentaciones por toda la provincia de Córdoba, compartiendo escenario con bandas como "Bersuit", "Erica García" y "Siete Delfines", y participò del evento "Contra el Recorte de la Educación Pública", tocando para más de 6000 personas en la avenida Gral. Paz de la capital cordobesa. La banda permaneció existente durante 6 años y dejó 2 demos y un CD de 9 temas.
Posteriormente tocó con artistas locales de la ciudad de Alta Gracia, formando parte de varias bandas como Tarugo (heavy metal) y Homónimos (covers internacionales).
Recién llegado a Ushuaia en abril del 2003 se suma al proyecto SANTO REMEDIO, teniendo un paso relativamente fugaz por la banda Fuego Sagrado (año 2006/2007) con la cual grabó un CD.
Influencias:Metallica, Iron Maiden, The Cure, Purple, Queen, Alma Fuerte, Divididos, Sumo, Las pelotas, Dream Theatre, Mago de Oz, Hèroes del Silencio, Nirvana, Marley, ACDC.
Germán Flores -Bajo - Su historia musical comienza en Còrdoba capital mientras cursaba la secundaria. Fue guitarrista, luego baterista y finalmente bajista de Horus, banda heavy con influencias de Iron Maiden, Metà llica y Guns and Roses. Luego fue miembro de Ameba, banda influenciada por Soundgarden, Stone TemplePilots, Faith no More, y que realizò varias presentaciones en pubs de la capital cordobesa y en festivales como Las 24 horas de Arte. La banda rockeò durante cinco años, y pudo registrar un demo de doce temas. Desde Enero de 2001 reside en Ushuaia, y desde Abril de ese año es miembro fundador de Santo Remedio
Influencias: Soundgarden, Faith no more, Primus, Divididos, Ravi shankar, System of de dawn.
Daniel Sandoval - Guitarra y Voz - Estudiò guitarra con Ramòn Leiva, y mientas cursaba la secundaria fue integrante de Pk`2, banda ushuaiense en principio de covers nacionales y luego de mùsica inèdita, ,creada en 1987. Terminado el ciclo secundario, cursò estudios universitarios y estudiò guitarra con profesor particular en la ciudad de Buenos Aires. Mudado a la localidad de Moreno en la dècada del 90, fue integrante fundador de Cuatro Almas, banda que realizò varias presentaciones en el circuito local. De vuelta en Ushuaia desde 1998, hizo presentaciones como solista e integrò la banda de covers del Guanaco Pub. En Diciembre de 2000 audicionò como solista con canciones propias frente al grupo Divididos, por lo cual en Enero de 2001 fue invitado en los temas "Que ves?" y "Par mil" en el recital de Divididos en Ushuaia para el ciclo Argentina en Vivo. Desde Abril de 2001 es miembro fundador de Santo Remedio.
Influencias: La renga, Divididos, Sumo, Leòn Gieco, Las manos de Filippi
© 14-01-2010 Santo Remedio
Recitales
Recitales registrados: 123.
Discografía
5 ediciones.
Videos
5 videos.