6948 días difundiendo la cultura fueguina


[ ROCK FUEGUINO ] es música y cultura de tierra del fuego | artistas - recitales - discos - noticias - imágenes - videos
Home > Recitales de Rock Fueguino > Mandarina Groove & The Absurdos Trio en Temple Bar
Mandarina Groove & The Absurdos Trio en Temple Bar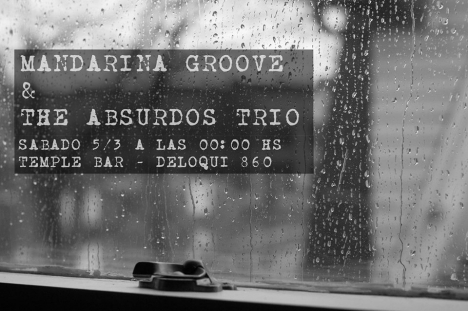 Fecha:
05/03/2016
Ciudad:
Ushuaia
Lugar:
Temple Bar
Detalles:
El Sábado 5 de Marzo de 2016 MANDARINA GROOVE & THE ABSURDOS TRIO se presentarán a las 00:00 hs. en Temple Bar -Deloqui 860-.
Info sobre las bandas:
|
Mandarina Groove
|
The Absurdos Trío
|
|
Visitas: 1687
Buscador de Rock Fueguino
Guía Rockera:

Recitales de Rock Fueguino
Un día como hoy...
"Lo que importa, más que el género, es la música en sí misma. Me gusta crear dentro del espacio y tiempo de un momento, con cualquier tipo de posibilidades. Espero estar haciendo un tipo especial de música"
Damo Suzuki



1999-2018 Rock Fueguino es música y cultura de Tierra del Fuego
Diseño, Desarrollo y Hosting: Principio del Mundo