Home > Recitales de Rock Fueguino > Festival Hain 2015 día 2
Festival Hain 2015 día 2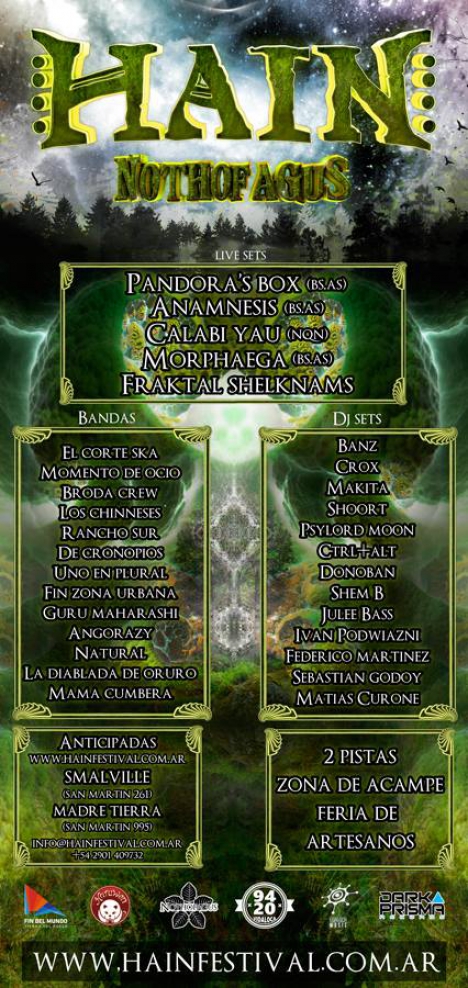 Fecha:
10/01/2015
Ciudad:
Ushuaia
Lugar:
Haruwen
Detalles:
El Sábado 10 de Enero de 2015 se realizará la segunda jornada del Festival Hain 2015 en Haruwen. Desde las 18:00 hs. se presentarán en vivo: ANGORAZY (Funk), UNO EN PLURAL (Rock progresivo), LA DIABLADA DE ORURO (Rock), FIN ZONA URBANA (Rock), LOS CHINESES (Punk and Roll), MOMENTO DE OCIO (Reggae), JULEE BASS (Drum and Bass), MORPHOAEGA (Bs. As. Drum and Bass), ANAMNESIS (Bs. As. Forest PsyTrance), CALABI YAU (Bs. As. Hi-Tech PsyTrance) y PANDORA`S BOX (Bs. As. Forest PsyTrance)
Info sobre las bandas:
|
Angorazy
|
Uno en Plural
|
La Diablada de Oruro
|
Fin Zona Urbana
|
Chineses
|
Momento de Ocio
|
|
Visitas: 898
Buscador de Rock Fueguino
Guía Rockera:


Recitales de Rock Fueguino
Un día como hoy...
"Punk es el que hace las cosas a su manera sin prestarle atención a la moda, el anticorporativo, al que no le interesa caer bien."
C.J.Ramone