6587 días difundiendo la cultura fueguina


[ ROCK FUEGUINO ] es música y cultura de tierra del fuego | artistas - recitales - discos - noticias - imágenes - videos
Home > Recitales de Rock Fueguino > Pet & The Smoking Trompets en Viagro
Pet & The Smoking Trompets en Viagro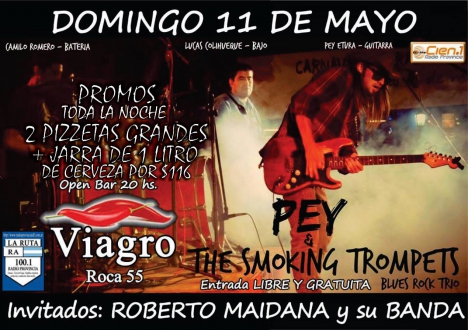 Fecha:
11/05/2014
Ciudad:
Ushuaia
Lugar:
Viagro
Detalles:
El Domingo 11 de Mayo de 2014 PEY & THE SMOKING TROMPETS se presentará en vivo en Viagro. ROBERTO MAIDANA y su banda se presentarán como invitados.
Info sobre las bandas:
|
Roberto Maidana
|
|
Visitas: 889
Buscador de Rock Fueguino
Guía Rockera:



Recitales de Rock Fueguino
Un día como hoy...
"Dejé The Police porque quería crecer como músico, madurar como artista y probar cosas que no podía hacer con la banda. He pasado veinticinco años explorando la libertad y he vivido grandes momentos"
Sting



1999-2017 Rock Fueguino es música y cultura de Tierra del Fuego
Diseño, Desarrollo y Hosting: Principio del Mundo