Home > Noticias> Rock del Resto del Mundo>
The Flaming Lips reinterpretará Dark Side of the Moon de Pink Floyd
¿Homenaje o sacrilegio?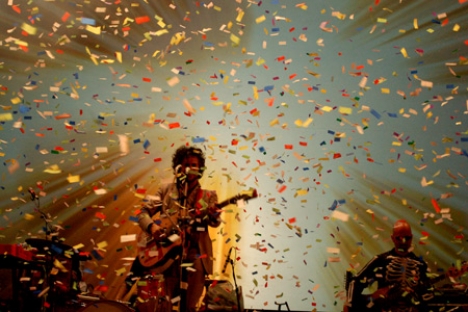 20/10/2009
|
Los Flaming Lips anunciaron durante un show "secreto" que dieron para MySpace que ya tienen listo el album sucesor del flamante Embryonic y que se trata de una reinterpretación del clásico de Pink Floyd Dark Side of the Moon.
La banda grabó el disco junto al grupo Stardeath and the White Dwarfs y contó con Henry Rollins y Peaches como invitados.
Wayne Coyne el lider de TFL declaró "creo que nuestros fans nos perdonarán por adentrarnos en regiones mas lejanas de lo que podrían pensar. Pero creo que no mereceríamos ser perdonados si no hicieramos justamente eso. Ellos nos dan la libertad, el coraje, el dinero y el tiempo para decir "vayan a donde ninguna otra banda podría ir, luego vuelvan y cuentenos como estuvo"".
El disco que será editado en breve exclusivamente via iTunes se conforma con el siguiente tracklist:
1. Speak to Me
2. Breathe
3. On the Run
4. Time
5. The Great Gig in the Sky
6. Money
7. Us and Them
8. Any Colour You Like
9. Brain Damage
10. Eclipse
Via: mog.com
Tags: #theflaminglips#pinkfloyd# | - Visitas: 1372
Buscador de Rock Fueguino
Guía Rockera:
Un día como hoy...
"Lo que importa, más que el género, es la música en sí misma. Me gusta crear dentro del espacio y tiempo de un momento, con cualquier tipo de posibilidades. Espero estar haciendo un tipo especial de música"
Damo Suzuki