Home > Noticias> Rock del Resto del Mundo>
R.E.M. celebra 25 años re-editando Murmur en versión deluxe
Murmur fue el primer disco de la banda liderada por Michael Stipe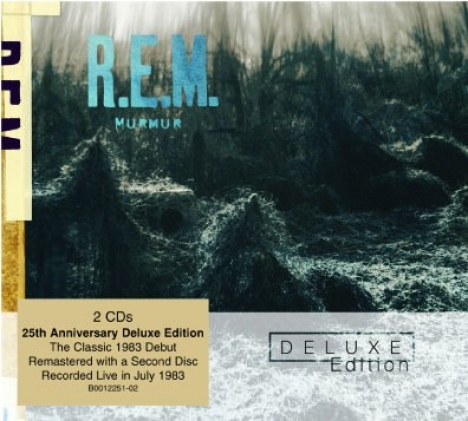 28/10/2008
|
Mientras se apresta a iniciar su gira por sudamerica que los traerá a Buenos Aires en el marco del Personal Fest 2008, R.E.M. tiene motivos para celebrar su exitosa carrera; es que en Abril de 1983 fue lanzado Murmur, su album debut y el próximo 25 de Noviembre celebrarán los 25 años transcurridos desde este hecho con una reedición de lujo.
La nueva edición contendrá el LP debut remasterizado mas un CD con material en vivo registrado en Julio de 1983 en Toronto con versiones de temas de Murmur, de su primer EP Chronic Town y de canciones que serían editadas posteriormente mas un cover de Velvet Underground.
El tracklist de los discos editados por I.R.S./Universal es el siguiente:
Murmur edición 25 Aniversario
Disco 1 - Murmur:
01. Radio Free Europe
02. Pilgrimage
03. Laughing
04. Talk About the Passion
05. Moral Kiosk
06. Perfect Circle
07. Catapult
08. Sitting Still
09. 9-9
10. Shaking Through
11. We Walk
12. West of the Fields

Disco 2 Live at Larry's Hideaway:
01. Laughing
02. Pilgrimage
03. There She Goes Again -Velvet Underground-
04. 7 Chinese Bros.
05. Talk About the Passion
06. Sitting Still
07. Harborcoat
08. Catapult
09. Gardening at Night
10. 9-9
11. Just a Touch
12. West of the Fields
13. Radio Free Europe
14. We Walk
15. 1,000,000
16. Carnival of Sorts (Box Cars)

Gira Sudamericana 29 de Octubre: Bogota, Colombia, Parque Simon Bolivar
1° de November: Buenos Aires, Argentina, Club Ciudad BA
3 de November: Santiago, Chile, Movistar Arena
4 de November: Santiago, Chile, Movistar Arena
6 de November: Porto Alegre, Zequinha Stadium
8 de November: Rio de Janeiro, Arena
10 de November: Sao Paulo, Brazil, Via Funchal
11 de November: Sao Paulo, Brazil, Via Funchal
14 de November: Lima, Peru, LIMA Hot Festival
16 de November: Caracas, Movistar Musica Festival

Tags: R.E.M., | - Visitas: 1314
Noticias sobre R.E.M.,
---
Buscador de Rock Fueguino
Guía Rockera:
Un día como hoy...
"No soy un buen músico, ni siquiera en lo punk rock. Creo que tenés o no tenés el don, y yo no lo tengo. Pero el punk rock no existiría si la música fuera dejada en manos de los músicos. Mis héroes, como Gibby Haynes, Henry Rollins y John Lydon, no existirían"
Wayne Coyne de Flaming Lips